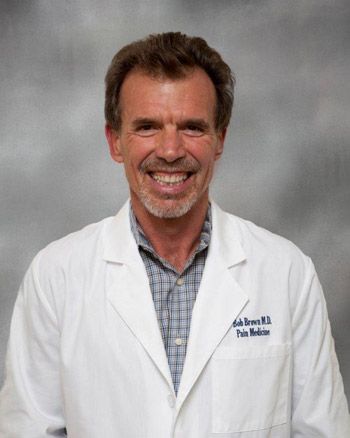 Robert E. Brown, MD
Bob Brown, M.D. grew up in the San Fernando Valley in Southern California. After graduating from high school in Van Nuys, California, he enlisted in the United States Air Force as a means to further his education. While stationed at Nellis Air Force Base in North Las Vegas, Dr. Brown found his calling to work in the healthcare field while working as a dental technician. He was able to complete two years of his undergraduate studies during his three years at Nellis AFB, and after recognition by his co-workers was released early from the Air Force to further his college education. Dr. Brown completed his undergraduate studies at the University of Nevada, Las Vegas with a degree in Chemistry with high distinction. He realized his desire to become a physician and graduated from the University of Nevada School of Medicine with his Medical Doctor (M.D.) degree.
He then went to Houston to further his education at the world renowned Texas Medical center at the University of Texas, at Houston Medical School. During his internship and residency training Dr. Brown trained at Hermann Hospital, Texas Heart Institute, Texas Children's Hospital, and the M.D. Anderson Cancer Center. Early in his residency training in Houston, Dr. P Prithri Raj joined the faculty and founded the University Center for Pain Management. This was one of first pain fellowship programs in the country, and led by Dr. Raj who was one of early pioneers in the field of pain medicine. Dr. Brown completed his residency and came to Denver to complete a Pediatric Anesthesia fellowship, before returning to Houston where he completed his Pain Medicine fellowship under the expertise of Dr. Raj.
After completing his fellowship Dr. Brown stayed on as a faculty member at the University of Texas University Center for Pain Management. He soon moved to Colorado and joined the University of Colorado to establish a Pain Clinic which continues to operate to this day. After a few years he left the University of Colorado to establish a pain clinic in the suburbs of western Denver, where he continues to practice today.
Robert E. Brown, MD is always learning. He has spent many hours over the past several years learning and studying the field of Regenerative Medicine. Dr. Brown has been traveling every month or two to the latest conference learning this rapidly developing field in order to bring the best practice and state of the art treatment options to his patients in the field of Regenerative Medicine. A pioneer in pain medicine, he continues to offer a number of procedures to provide his patients with the most advanced treatment options available in pain management.
Procedures Include
Vertebroplasty and Kyphoplasty
Radiofrequency Nerve Ablation
Spinal Cord Dorsal Column Stimulator Placement
Minimally Invasive Lumbar Decompression (MILD)
Vertiflex Procedures
Fluoroscopy and Ultrasound guided Nerve Block Injection Therapy
When he is not in the office, he enjoys spending time with his family. Dr. Brown lives in Evergreen with his wife, Renee, daughter, Lily, and 3 dogs. He has two young adult sons, Matthew and Michael, that are currently attending college in Dallas, Texas and Elon, North Carolina. Bob and Renee were blessed to adopt Lily from China over 10 years ago. As a family, they enjoy all that the Colorado lifestyle provides- snow skiing, biking, hiking, and camping. Bob and Renee are looking forward to teaching Auden, their first grandson born in September 2019, what the beautiful state of Colorado has to offer.